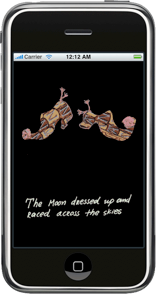 STUX Gallery is pleased to announce the release of Moonlight, the first ever audio and visual artwork conceived and created specifically as an application for Apple's iPhone. This extraordinary digitally animated poem, performed here by the artist, explores the exploits of an alluring cast of characters culled directly from both her dreams and from her intimate understanding of Greek Mythology. Moonlight is a work filled with the charm and enchantment of an artist who seeks inspiration from a world inspired by her own vivid dreams, while paying close attention to the emotional reality in which she lives.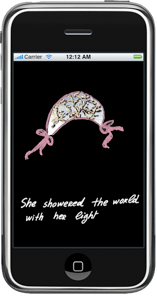 As told here for the fist time on the iPhone, Moonlight traces the timeless narrative of the Goddess of the Moon and her yearning for the love of the young Endymion. Under the scrutiny of vengeful mythical Gods, we follow the Goddess as her lover is condemned to an eternal restless sleep. The Goddess' suffering results in a liberating new power that leaves her in complete domination of an mystical unseen world.
Proceeds from the sales of this application will benefit Amnesty International, the USA's life saving human rights work organization.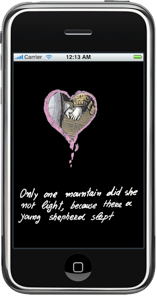 View Moonlight by visiting the iTunes store at: http://itunes.apple.com/us/app/moonlight/id303834234?mt=8 .